Why do marketplaces still rule? Who are the global innovators? Where is all of the innovation? Join us every week as we explore these topics!
Latest Episode
EP 43 – Does Social Commerce Impact eCommerce Sales Longer Term? Frost Li – Founder, Social Chat
eCommerce UnderCover enjoyed our conversation with Frost Li, the Founder, and CEO of Social Chat. Social Chat enables brands to host live shopping events directly on their websites.
Some of the topics we discussed included:
Can an in-store experience be recreated with software?
Personalizing eCommerce sales at scale
Who is and is not appropriate to host a social commerce live event?
Data gathering, data usage, and data privacy
Do immersive experiences matter or is Web 2.0 enough?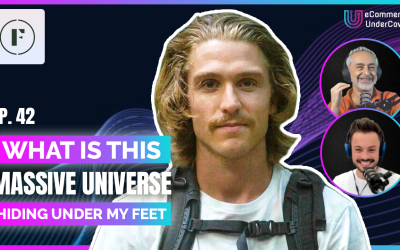 eCommerce UnderCover was joined by Andersen Conner, a co-Founder of Foraged. Foraged is an online marketplace for "wildly unique foods, sustainably harvested, and carefully crafted."

eCommerce Is Not Solved Yet
Why Marketplaces Still Rule eCommerce
We explore the reasons why marketplaces still rule eCommerce even three decades after Amazon launched.  Not much seems to have changed.
We Search for eCommerce Innovators Globally
Great guests make great conversations.  We go into the trenches of eCommerce to discuss how the future of eCommerce is being built.
Where is All the Innovation in eCommerce?
Technology is advancing rapidly, yet the online shopping experience is not getting better.  What type of innovations do we want to see?
We believe that eCommerce has not been solved yet.  However, this is not just our opinion.  On the Dr Tech platform and from the recorded conversations on Michael Waitze Media, we meet the growing group of innovators that are pushing the boundaries of eCommerce daily. 
These are the stories we want to share with you.
Don't Miss A Thing!
Subscribe to eCommerce UnderCover Channels